Custom seed favor or Tea Packets as promotional product handouts.
If you prefer using your own design, insignia or company logo, for a more personalized look,
there's a one time set up fee starting at $25.00 (for a basic small vignette; with white background, front of packet only).
Any custom alterations to the back of Seed or Tea Packets will result in a separate additional custom fee.
We also accept custom design requests for Commissioned Seed packets & Tea Favors as promotional handouts.
There is a one time separate Fee for Commision designs beginning at $60.00 (front of packet only); according to the detail of the project.
Our in house designer, paints and illustrates full time, professionally, & you'll be receiving hand rendered, high quality custom art, not generic clip art.
We accept: Image Resolution at 150 dpi and require a border of 1/4".
Files can be submitted as tiff or jpg extensions.
Color accepted as RGB or CMYK (conversions from Pantone may produce unexpected results)
Live size is 2 1/2" x 4".
Images can be sent to CustomerService@PartyFavorWebsite.com
Please type "My own Design or Logo" in the subject line of your email.
Custom seed packets are excellent as promotional product handouts and corporate or professional advertisements.
Email uswith any inquiries and we will be happy to help you. :>)
Please Note: The use of copyrighted materials without express written consent of the author, artist, or other copyright holder is strictly prohibited. By sending us your image, you agree & verify that you have the right to both reproduce & use the design. Party Favor Website is not in any way liable or responsible for any inappropriate uses of material of any kind. Custom and commission order fees are non refundable.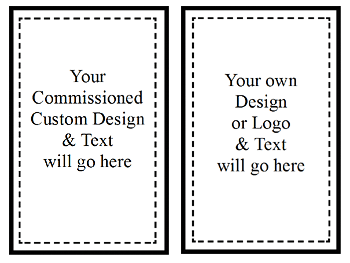 Click links below to start:
Click Here to use your own Logo or Design
If you see a design that you like, but may need it in a different color, please contact us with the design # as we may be able to customize it for you, often times at NO additional charge.
The cost for Custom Seed Packets is just for the Set Up Fee for your own design
or the Commission Fee for a custom design (front of packet only).
Seed packets are an addtl. $2.00 each.