We're located in the beautiful and enchanted rural Northern Catskill Mountains of Schoharie County, in upstate New York. Close to Cobleskill, Middleburgh, Sharon Springs & within a short driving distance of Oneonta, Albany & the central capital district.
Our office & design studio are located on several acres of land, surrounded by picturesque gardens, forests, streams & even a pond where we grow some of the flowers from the very same seeds that we offer to our clients.
We couldn't imagine a nicer place to both live & work!
Our property has been added to the National list of Certified Wildlife Habitats, and our historic home (originally a one room school house) and business has been featured in assorted decorating magazines (see several covers below) in addition to a holiday decorating book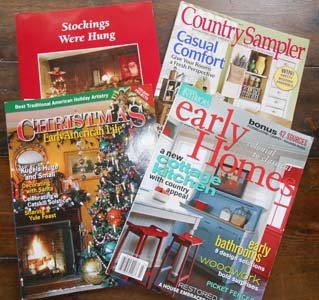 We've been in business over 20 years & originally started out creating art & giftware for both the wholesale and retail markets . Party Favor Website became a natural transition of our love & respect for Nature, combined with our love for art. We use organic growing methods without any use of pesticides and naturally build upon our soil. Seeds seem to be in our blood, as we come from a long line of farmers, the very backbone of our country. The idea of celebrating life's special moments with Custom Stationery or Seed Favor gifts given to guests, growing year after year as a reminder, seemed perfect.
We've never looked back! It has always been very important to us, to offer our clients the best personal service & high quality products. We supply our clients with custom and personalized stationery and favors.
The designs you see on our Seed and Tea Favor Packets & Invitations are all illustrated & painted by hand exclusively for Party Favor Website on both Crane Co. and the Strathmore line of quality papers.
Your event is very special. Your Favors and Invitations, should be as well, which is why You won't find common cheap generic clip art here.
We are very excited to now offer a new line of Luxe Couture Wedding Invitations from Designs By Lorise!
Her signature style of elegance and glamour adds even more options to our ever growing line of items.
Lorise was featured as the Party Person in the July 2015 issue of Party & Paper Retailer magazine!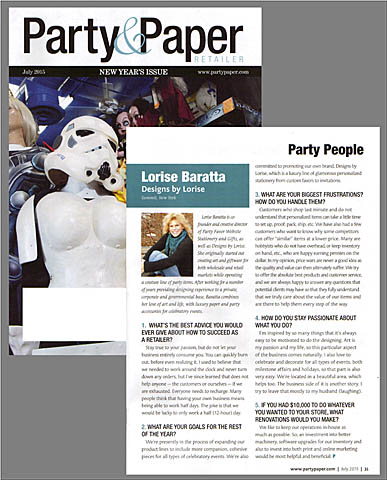 Our company has always been a firm believer in the eco conscious lifestyle, not just in our business, but also in our private lives as well. We try to leave the lightest footprint on earth, by using energy saving light bulbs, composting our trash, recycling & repurposing everything imaginable, and of course, offering our customers a way of adding a decorative touch to their events, while giving them the opportunity to plant seeds that will enhance the planet, even if just in a small way, rather than hurt it. For example, if even just 75 seed favors were planted from a wedding or other special event, this would help to attract butterflies and bees ,which are a very important part of our planet, as they help to pollinate our food. If every person could just start changing even one small thing in their life, we can all help the environment.


It's here that we have the freedom to offer designs for many special occasions that we ourselves celebrate in lifes many landmark momentous events.
We strive to work closely with you & offer you the best friendly service so that you can concentrate on your event, not worry about the details. After all it's your day, your way & it's all about you!
Feel free to call or write to us.
We always love hearing from you!

Here's to helping to add beauty to our planet
while celebrating life's many happy celebrations! :>)